June 21 2017 09:20 PM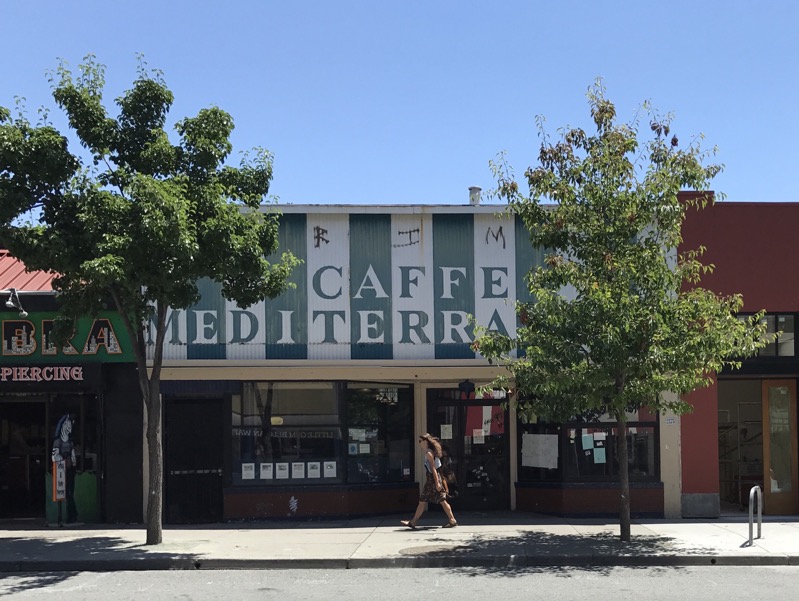 This morning I was on Telegraph Avenue in Berkeley (searching for the right edition of a certain book for a certain newly minted high school grad) when I noticed that the Med (aka Caffé Med, aka Caffé Mediterraneum) is still shut down seven months after new ownership took over and closed it for remodeling. Crossing the street and peeking through the window you immediately realize that the 'remodeling' began and ended with removing the tables and chairs and some sweeping up.
An independent coffee shop named Romeo's recently opened right next door; a Peet's is half a block up the street. Game over.
As a rule I'm totally and brutally heartless when it comes to business closings, including (especially?) beloved restaurants, bars, and bookshops. Survival of the fittest. Hand over the keys and get out of the way. Next! Can't make me cry.
Even so, allow me just a moment of self-indulgent nostalgia for the Med.
For one thing, it was the first place I ever drank a cup of coffee that wasn't instant and named Maxwell House. It wasn't great coffee, it was never the sophisticated artisan stuff like Alfred Peet started roasting and brewing on the other side of town in 1966, but it was always good enough for a rube like me.
And the joint had some history, none of which I knew until much much later. Like Allen Ginsberg and Jack Kerouac and Gary Snyder and those Beat guys hanging there when it was simply a coffee station inside a bookshop named Il Piccolo. Ginsberg wrote chunks of
Howl
there in 1955 and 1956 while he was living in Berkeley on Milvia Street. Mario Savio and the Free Speech Movement folks were regulars. In the 60s and 70s the Black Panthers used to meet in the upstairs mezzanine where a decade later I'd be drinking my moka (the Med's preferred spelling, not mine) and reading a book and/or a magazine I had just bought at Cody's or Moe's across the street. People's Park is literally right behind it, outside the back door, sharing the same city block.
Truth be told, though, I haven't stepped inside the place in over 30 years. The Telegraph Avenue business district grew increasingly seedy and even dangerous back in the 80s and the early 90s, and I was getting increasingly not young and increasingly not so adventurous. The Med itself was getting more and more seedy, too (even in the best days I spent there it sort of had a spartan North-Beach-meets-Greyhound-bus-station vibe to it, part of its hobo-hemian charm). So Telegraph Avenue and the Med drifted into my rearview mirror.
And now it's gone. Really gone, man.
RIP Caffé Mediterraneum.